| | |
| --- | --- |
| Here comes another step in the conception on project "Jarvis". For once, let's not be too geeky. I feel artsy today. I'll focus on the GUI and fire up Inskcape et the Gimp. Yeah, still a bit geeky, I know… | |

Jarvis-like GUI
Let's try the first idea take comes to my mind: create an interface … just like Marvel's Jarvis. I googled a bit, watched a couple of scenes from the movies and came up with a first rendering: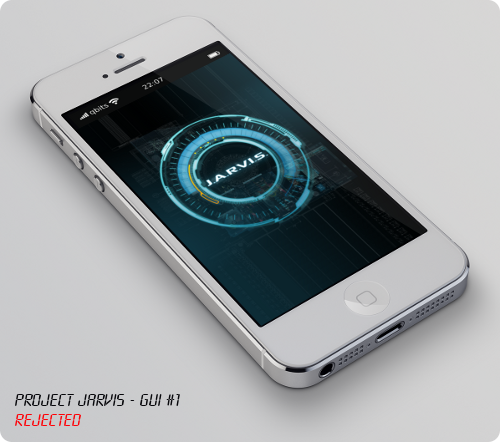 And it sucks :poop: !
Yes, Jarvis on the movies looks badass. But as a GUI, no matter how hard I tried, there no way it can be usefull to anything at all.
Siri-like GUI
The second idea would be a Siri-like interface. Just like I drew in the first scketches. Here's a first rendering: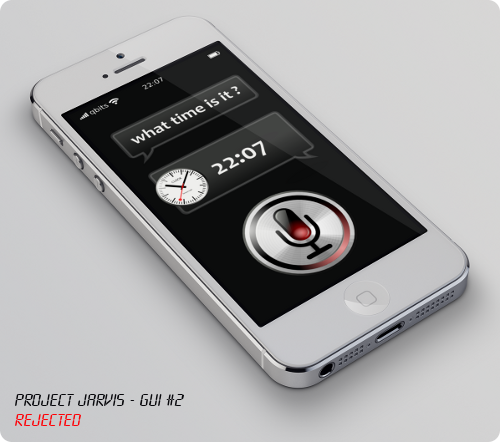 And … that sucks too :poop: ! It is a just a boring copy of Apple's SIRI :yawn: …
Plus, I want something dead simple, and that would provides natural ways to navigate between Wolfram|Alpha's pods.
Haze-like GUI
Haze is a fantastic weather forcecast app for iOS, with a very unique interface. Almost peotic. That's definitly what I want for project Jarvis 🙂 !
Here's a sketch of what I have in mind: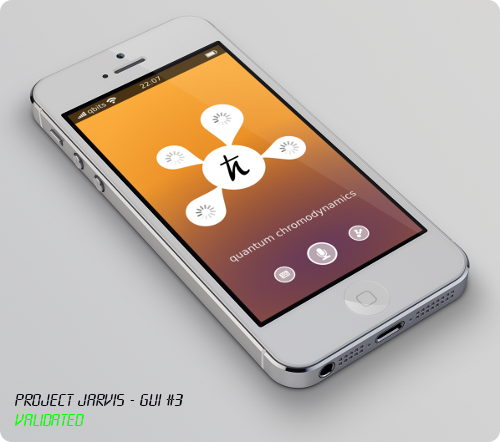 I feel, the GUI should be as minimalistic and intuitive as possible:
A simple button to trigger voice acquisition

A smaller button to rise a keyboard and enter a query

A third button to share the results

On top of these buttons, the textual reformulation of the query

At the center, Jarvis' answer to the query

Around the main bubble, various pods from Wolfram|Alpha

I like that :silly: !
And I guess, that'll be all for this week-end !