Quite a bit of them were missing. Then I caught the flu 🙁 . Then I realized I had actually lost the SVGs. Yes, I'm a mess. I knew that already.
Soooooo, here goes a new version of these icons. I little less of them maybe, but this time, all the SVGs are included (hopefully).
Since I was very late, and feeling a little guilty about that, I took a look at the icons used in Open-AudIT. I took the liberty to freshen them a little bit. Here goes: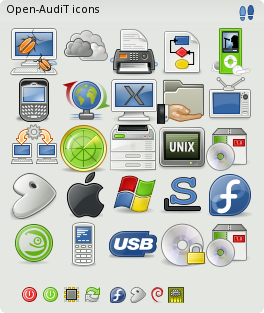 open-audit-icons.gz
(SVG, 48×48) – Licence:GPL
Yes, It's not quite finished… A few a the original icons are yet to be updated. But let's see first what Mark is thinking of them.