| | |
| --- | --- |
| Tonight's improvisation focuses on sauce. Everybody knows my loooove for crème fraiche and morels. | |
Tonight's improvisation: "Côtes de veau aux morilles" with a side of "pommes de terre nouvelles sautées" and a nice glass of Pouilly-Fuissé.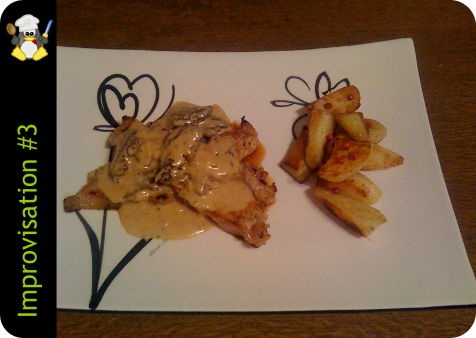 I'm extremely happy with the sauce. Here goes the improvised recipe:
Ingrédients / Ingredients:
2 échalottes / 2 shallots
1 verre de vin / 1 glass of wine
1 cuillère à soupe de fond de veau / 1 full spoon of "fond de veau"
30cl de crème fraîche / 30cl of "crème fraiche"
30g de morilles séchées / 30g of dry morels
40g de beurre / 40g butter
Recette / Recipe:
Ré-hydrater les morilles pendant environ 30min dans de l'eau tiède. Egoutter et récupérer 5 cl du jus / Rehydrate the morels for 30min. Keep 5 cl of liquid for the sauce
Ciseller finement les échalottes / Finely chop both shallots
Porter à ébullition le vin, les échalottes et le jus des morilles jusqu'à quasi évaporation / bring to boil wine, shallots and the liquid you kept
Ajouter le fond de veau, puis la crème fraiche. Fouetter énergiquement / Incorporate "fond de veau" and "crème fraîche". Whip energetically
Lorsque la sauce s'épaissit un peu, ajouter les morilles. Baisser le feu pendant 2-3 minutes / add the morels when the sauce thickens. Let the sauce cook for 2-3 minutes
Monter la sauce au beurre (incorporer le beurre en petits morceaux en fouettant vivement) / incorporate the butter (small pieces after one another) and whip.
I used a Pouilly-Fuissé wine, but a Vin du jura would have been better. Unfortunately, this was the last bottle of white wine I had in my cellar. On the bright side, I had time for a few groceries and my fridge is unexpectedly full.
Open questions:
Is there is an Open Source licence for recipes ?
Anybody knows a good english translation for "fond de veau" ?